Have you ever had a project that you were super excited about when you first started it and then once it was done you weren't totally thrilled with the result? This is how I felt with the pallet patio table I made at least a month ago. I actually had this post ready to go back then but decided not to publish it. Fast forward to this past week when my brother and sister-in-law were visiting from Alberta and when they saw the table they thought it was pretty cool and convinced me to share it with all of you. So here goes…..
There are so many fabulous pallet creations, but the one that really caught my eye was this coffee table.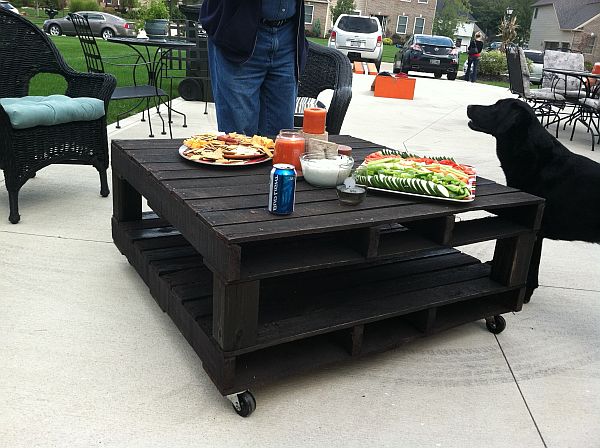 I figured this would make a great addition to our deck. For a few years we used a large rectangular glass-topped patio table (borrowed from my folks), but felt that it took up too much room. Last year I thought that I would like to have a conversation piece, but just didn't want to spend the money on one. I was fortunate enough to be given a used patio set eons ago. The summer after I moved in with DP, my parents had the chairs and table powder coated, had my aunt make cushion covers and they hauled the set out (along with a lot of other items) Beverly Hillbilly style from B.C. While the table was broken in a windstorm, the chairs are still okay although I'm just waiting for the webbing to finally meet their end. Until that happens, I have a hard time spending money on new chairs when these ones are doing the job just fine. Have I ever mentioned that I'm thrifty?!
I headed to the local ag site and picked up these clean pallets that have angled edges that give it a different look.
I got busy sanding the two pallets.
I had read about a homemade type of stain using strong coffee that was brushed on once it was room temperature. I thought this sounded cool, but it didn't bring out any colour so I went to plan B and decided to paint each of the slats a different colour and then finish with a stain. I love this look on Beyond The Picket Fence's site. Gorgeous projects!!
I used some leftover paint from our house, the barn and from my parents'.
Once the pallets were dry I sanded them with my sander and then coated them with a Teak stain.
DP added four castors to the bottom pallet.
We cut an old fence post, positioned it between the two pallets and screwed them in place with the drill. We started off with the cordless drill, but quickly grabbed the other drill which worked like a charm.
Here is the completed table. I ran out of stain, but kind of like the unfinished look of it. When it was first completed I felt that it appeared a little busy, but now looking at it on the deck I quite like it!
My mother-in-law gave me two crocks which I am using as planters and I love the look of them! The lantern was one that I found in and old grainary that is being used for storage. It was used by DP's dad and grandpa when they would go check the cows. There is a bale hook that was used to grab square bales and the insulator was given to me by a family friend who has all sorts of treasures at his yard.
Have you ever had a project that you weren't too crazy about until someone else gave you a boost of confidence to share it?