After seeing a gallery wall at a friend's house many years ago, I knew that I wanted one in our home as well. During renovations, I realized the perfect place for the gallery wall was in the hallway just outside the "boys" bathroom. We had track lighting installed so that we could shed some light on the situation
illuminate a wonderful wall of images.
Nearly 2 years after our renos began, I finally got some inspiration to complete the gallery wall. I was always under the impression that all of the frames would have to match and being very frugal, didn't want to spend a lot of money buying new frames. Until....
after checking out these amazing blogs...
aka design
from GARDNERS 2 BERGERS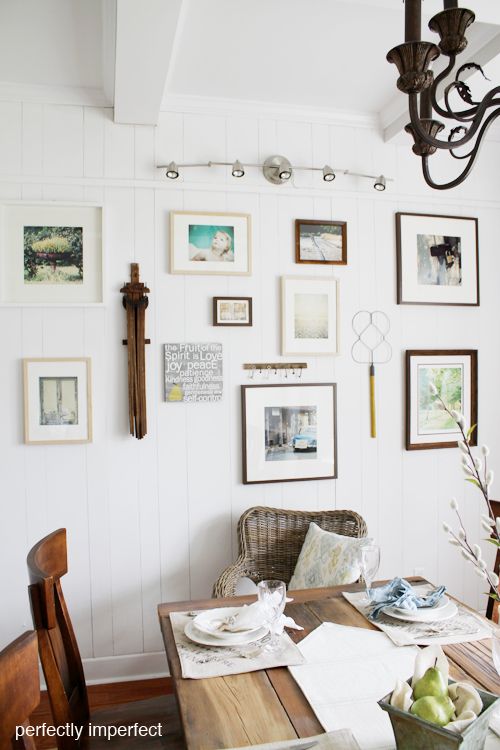 Perfectly Imperfect
I realized that incorporating different frame styles, sizes and artwork in with photos is the perfect way to display our memories. I pulled all these items out of the closet, dusted them off and started arranging them on the living room floor.
I then got started with measuring which was fairly time consuming, but I am a little bit particular in some areas and apparently this was one of them! I originally thought I would write about all the nitty gritty measuring details, but I quickly realized that you would likely fall asleep just as I was starting too with all those boring details! Let's just say there was a lot of measuring done!
Ok, next I started hammering in some nails that I found in an old Sucrets tin and hanging the goods up as I went along. After everything was in place, I started painting five of the frames that I wanted black. I applied two coats of DecoArt Black paint and then after they dried applied a coat of DecoArt Glazing Medium to add a little shine.
I hung those photos back up and knew that there were two more items I wanted to include - a piece of Subway art and a Last Name Photo Collage. I will post they DIY instructions soon!
I am thrilled with the way our gallery wall turned out! Our girls love to look at the photos of themselves, their grandparents, great-grandparents and our wedding photo (and so do I)!
The only thing I need to complete this project is to add some fun tack to the bottom back of the frames (a trick my mother-in-law told me about) to hold the frames in place and position the track lighting.

UPDATE - I finally got the fun tack added and it has made a huge difference. No more off-kilter pictures as the kids run by or a door gets slammed!
Now that my mom is back from Europe I can help her plan her gallery wall!
Sorry for the lack of "head-on" photos, but this hall space is pretty tight!